Every week, players who have purchased the new Fortnite battle pass of the season 3 are given a variety of challenges to earn experience points and small stars to help them move up the ladder faster. Last week there were two challenges, one was to find a llama, a crab and a fox and another was a real treasure hunt.
→ You can follow our guides for these challenges :
This week, things are getting more complicated with the challenge of search chests in wailing woods. It will require exactly 7 chests to be searched in this area to validate the challenge. Unfortunately, this area has almost no chests to open. But we have found a little trick that will make it easy for you to quickly open your 7 chests at Wailing Woods !
Where to find chests at Wailing Woods in Fortnite Battle Royale :
While jumping off the battle car, head to the side of Wailing Woods, you will find a small isolated shed on a hill (see screenshots) where a chest appears quite often. This chest can be counted for the Wailing Woods challenge if you open it in a certain way.
→ There are two ways of doing this :
The first method is that you can enter through the roof of the shed and open the chest by being above it and well positioned in the corner of the shed. It'll count as opening a chest at Wailing Woods.
The second method is to destroy the trees around the shed and create a ramp from the bottom of the shed to access the chest. You must open the chest by being placed on the ramp and as close to the edge as possible to be closest to Wailing Woods.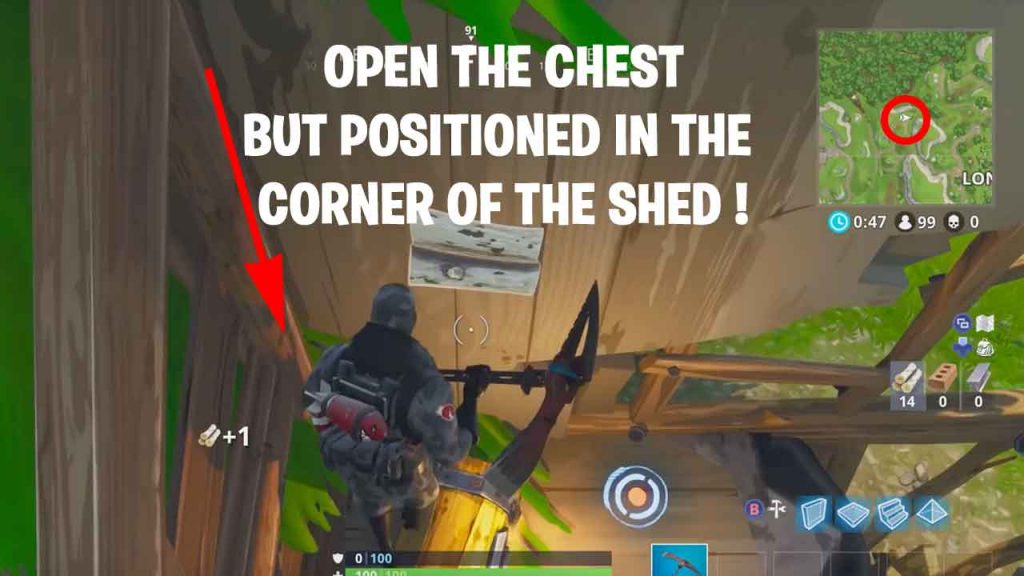 Regardless of the chosen method, if you meet both conditions, you will validate your challenge for the second week of the Fortnite battle pass, which consists of search 7 chests at Wailing Woods.