In addition to Yakuza 6's main quest, you'll be able to participate in all sorts of side activities in Sega's new title, including a host of mini-games and retro games in addition to Yakuza 6's The Song of Life gameplay. 
You will be able to enjoy arcade games, Mahjong games, play darts or even participate in sexy chats with live actresses and many other things. Just so you know, we've listed all the Yakuza 6 mini-games on this page.
List of Kamurocho mini-games in Yakuza 6 The Song of Life :
→ Karaoke Hall : Want to see the EX Yakuza Kazuma Kiryu sing ? So go to the Karaoke club in the town of Kamurocho and choose what you want to sing with the hostess. All you have to do is press the buttons displayed on the screen correctly to increase your score !
→ Live Chat : If you want Kazuma Kiryu to participate in rather daring sexy chats, visit the Mentai Internet Cafe located at several Kamurocho locations and chat with your favorite actress. If you always choose the same actress, you will even have the right to a very particular scene of the private genre… But shh…!
→ Sega Clubs : As you walk through the town of Kamurocho, you can pass through the doors of two Sega lounges filled with arcades of all kinds. You can play Out Run, Super Hang-On, Space Harrier at Theater Square Club and Puyo Puyo and Virtua Fighter 5 : Final Showdown by visiting the club located in Nakamichi ST.
→ Batting center : You will find a training area in Kamurocho where you can train to hit the ball with automatic machines. Practical for training before real baseball games ! You will find the place north of Kamurocho at the Oshida Batting Center.
→ GYM Rizap's club : Kazuma Kiryu is rather old and his time in jail has certainly softened him. He will be able to find the form by making a training stage at the training center of Rizap of Kamurocho. You will find several types of training, with bench press, squats and many other exercises of the kind. You will even have a personal coach and a strict diet to follow.
→ Darts games : By going to Kamurocho's Dartlive, Sega's arcade at Theater Square or Bantam, you will be able to play darts with different rules of the game, play against experienced players, etc.
→ Mahjong Games : Two places to play Mahjong, Modern Mahjong and Lullaby Mahjong. On the program, meet other players, several difficulty modes and even tournaments.
→ Nyan Nyan Cafe : South of Kamurocho you will find a cat bar… The problem is that it is empty. You will have to find the 19 stray cats and feed them to return to the Nyan Nyan Cafe. You can then interact with the cats when you return to the cafe !
→ Cabaret club : A place where Kazuma can have a good time with different hostesses.
→ Clan Wars : The Clan War mini game will be accessible at some point in history, you will need to assemble a team and defeat other clans including defeating the JUSTIS organization.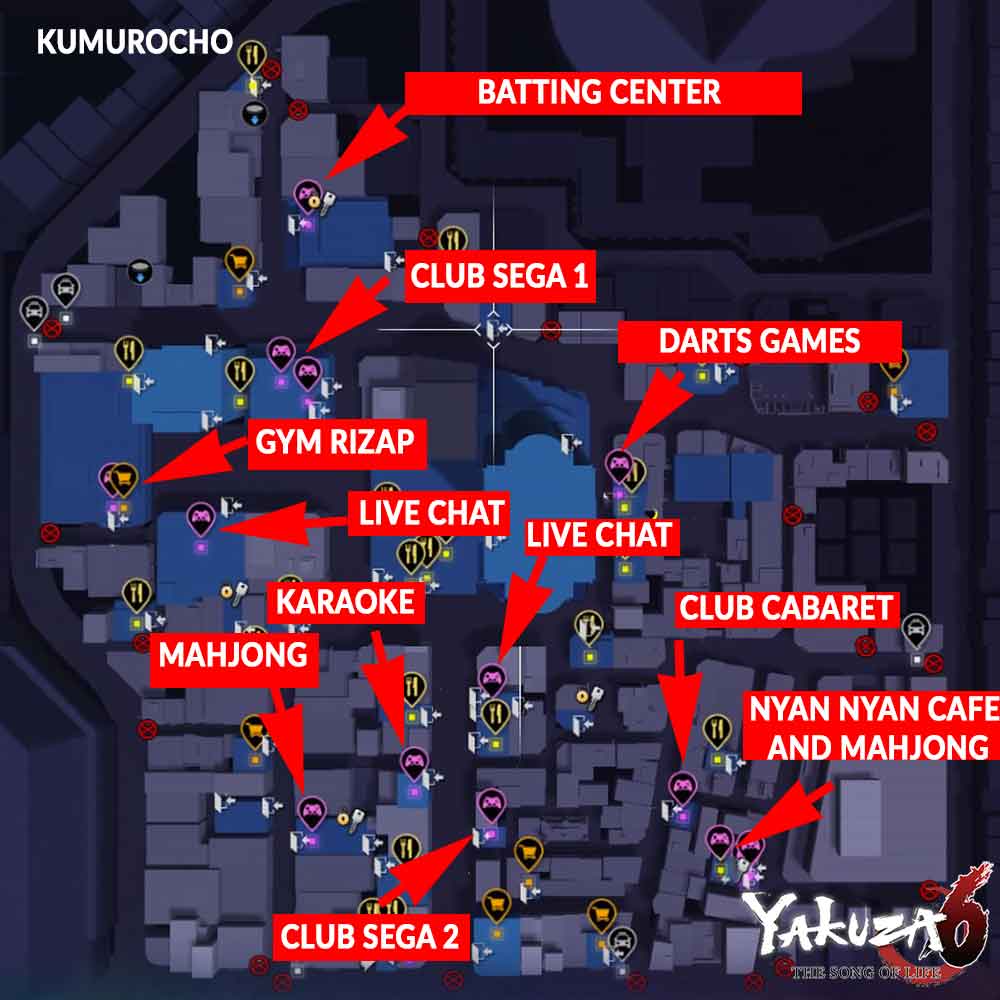 List of Onomichi mini-games in Yakuza 6 The Song of Life :
→ Shrines : You can visit Onomichi shrines and donate items to receive certain benefits for Kazuma. Go see the Statues of Jizo at Ryunan Shrine.
→ Calming Haruto : At some point in the story, you'll have to take care of Haruto a young child who will take you across the four corners of Onomichi in search of milk powder. You will have to stop several times along the way to calm him down through a mini game. Shake your joystick in the right direction and stroke its head to calm it!
→ Senjoki Lottery : In Senjoki, you can try your luck by drawing a lottery ticket. By getting a winning ticket, you can get beneficial effects for Kazuma for a limited time.
→ Spearfishing : On the quays of the Jingai Ferry, you can participate in a mini game that will take you deep sea to hunt fish. More than that, you can face bosses at the end of the level like an octopus or recover treasures at the bottom of the water to get extra points.
→ Baseball : At some point in the game you will be able to form a baseball team, take on the role of captain or drummer, recruit new members and participate in major games by taking the taxi.
→ New Gaudi : New Gaudi is an Onomichi place where you can drink and chat with other customers to increase your social interactions.