Here we are, season 9 of Fortnite has officially started. Players can discover the new face of Tilted Towers, which was ravaged by the volcano at the end of season 8 after erupting. New locations, new gameplay elements, a battle pass with a ton of challenges awaiting you and of course, always more customization elements to unlock in a very futuristic universe. 
New areas and changes on the map :
Titled has therefore evolved, the city is more futuristic than ever and renamed for the occasion as Neo Tilted, you will discover a huge statue in the center, new structures and buildings and ventilators everywhere on the roofs that allow you to be projected. 
Speaking of thrusters, slipstreams have been installed all around the map and are used to move faster, kinds of air tunnels that transport players from one slipstream to another with the ability to change direction at any time giving a new dimension to the fights. Walking out of a slipstream has the effect of launching the player into the air, and not only characters can use this new gameplay element, as vehicles and projectiles are also involved. We will certainly see all kinds of crazy things immersed in these tunnels of wind.
The volcano finally gave way to a new area called the Pressure Plant. It's a kind of military activity camp. You will see a helicopter and several buildings in the middle of the volcano. In the air, there are giant drones, it is possible to climb on them, you will often find chests with loot.
Among the new areas, there is also Mega Mall which is a kind of huge shopping mall with shops, escalators, lots of futuristic elements and some fun playgrounds. Other minor changes are to be discovered on the MAP for season 9, a map that we suggest you view just below in its entirety.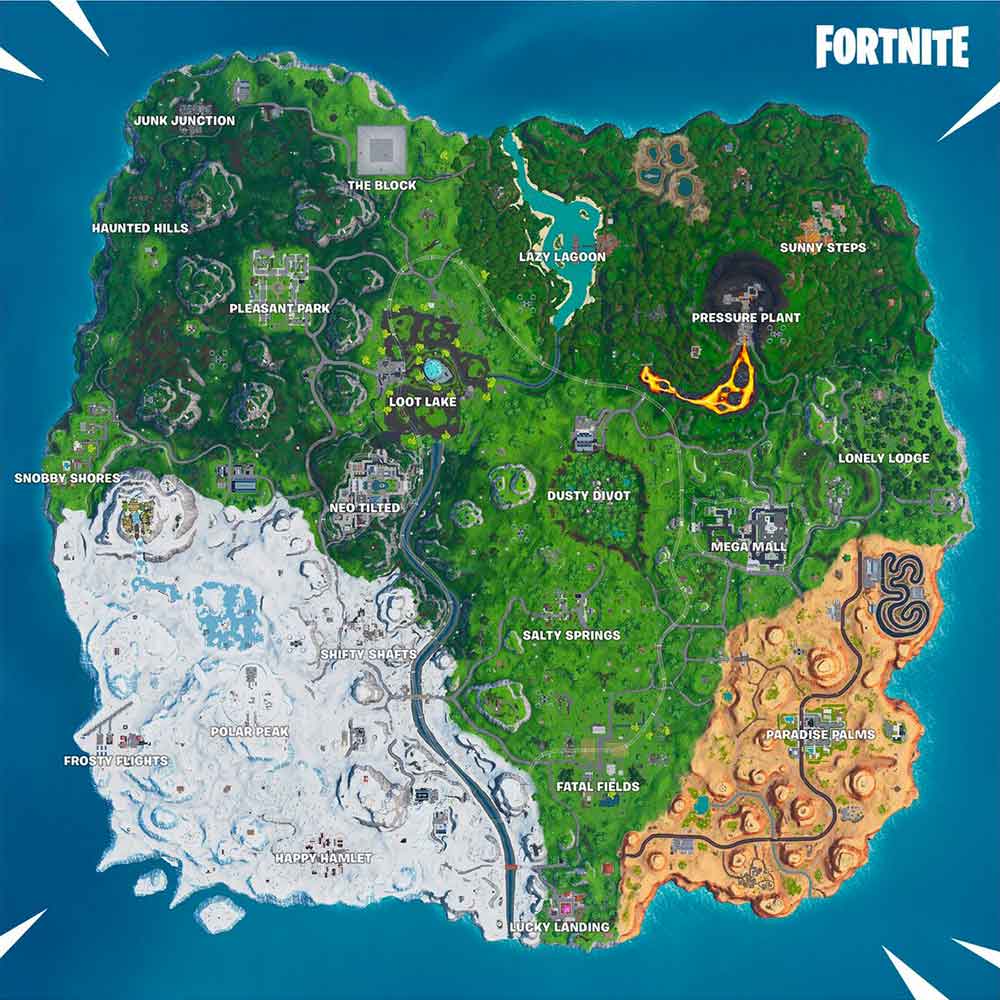 As you can see, there is still the desert area and the snowy part. The map has not completely changed, it is an evolution as we have been used to since the first season of the game.
A new battle pass :
Of course, a new season also means a new battle pass. The theme of season 9 is therefore based on the future with elements of cosmetics and other skins that go with it. Farewell to the banana costume, blue neon lights, robots and more stylish outfits up to futuristic combat armor. New emotes are to be unlocked, weapons appearances and also appearances for vehicles. As always, 100 levels offering just as many rewards with the presence of a free battle pass and another at 950 V-Bucks for those who want to support the developers' work.
New in the creative mode of season 9 :
The creative mode now allows you to build your own version of Neo Tilted with prefabricated and futuristic elements. Have fun making your own Neo Tilted and share your creation with other players and communities. There are also hover platforms that allow you to create mini platform games and a creature manager that allows you to create ever more elaborate mini games.