With the new Dragon Ball Xenoverse 2 update from Dragon Ball Xenoverse 2, developers have added a new system to the game that allows players to modify / customize the appearance of the partners/ instructors. Better than that, with this new system some characters can obtain abilities that they should not have in normal times and this is the case of Nappa which can be transformed into Super Saiyan !
If you don't know how all of this works, you will find here all the steps to follow to get Nappa in Super Saiyan transformation and know how to modify / customize the appearance of the instructors.
How to change the appearance of instructors in Dragon Ball Xenoverse 2 :
At the reception Area in Conton City, you'll find a small robot that can customize the appearance of your masters. You will recognize him easily, it says « partner customization » in blue above his head. To be able to customize your partners with the robot of the reception, you will need to have at least finished a training session with one of them to be able to customize it. Each time you finish a training session with a instructor, then you will be able to completely modify it at the reception robot in Conton City.
The modification is not only visual, in addition to being able to modify their costumes, you can even modify their skills set, modify their stats or even change their super soul to make them unique !
How to get Nappa in Super Saiyan in Dragon Ball Xenoverse 2 :
In order to be able to play with Nappa in Super Saiyan you will need to have it as a instructor, which means that you must have at least one training session with it. Then, go to the reception robot and choose to modify its techniques. All you have to do is place yourself on the  and unlock the « Transformation » skill in exchange for only 15 TP medals.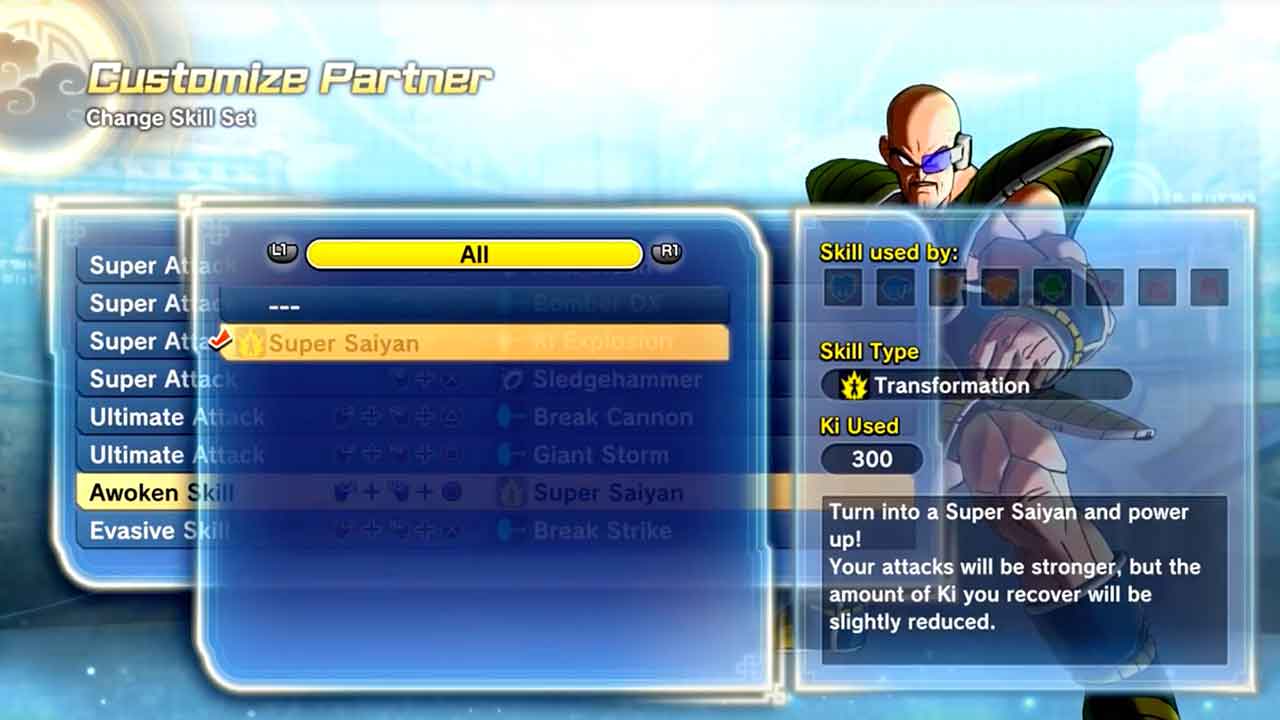 As this competence indicates :
Turn Nappa into a Super Saiyan and power up these stats ! These attacks will be stronger, but the amount of its recover Ki will be slightly reduced.
In Super Saiyan, our friend Nappa will have the yellow eyebrows and mustache. Too bad for him, even when he's transformed, the hair doesn't come out of his head !